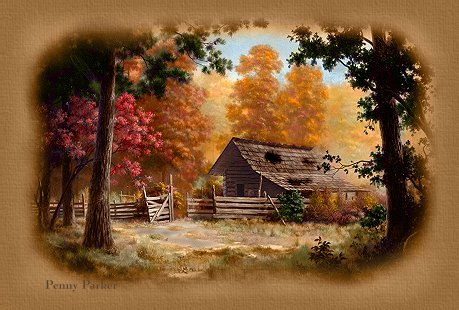 "THE AGATE"
THE OLD MANíS HEAD WAS DOWN AS HE CAME SLOWLY UP THE GRAVEL ROAD. NORMALLY HIS EYES WOULD HAVE BEEN MOVING OVER EACH PIECE OF GRAVEL THAT HE PASSED. BUT THIS MORNING THEY WERE SEEING NOTHING, HIS MIND COMPLETELY ABSORBED WITH THOUGHTS AND MEMORIES OF A HAPPIER TIME - MUCH, MUCH TOO LONG AGO.
AS HE CAME ABREAST OF A JUNK PILE ALONG SIDE THE ROAD, HE STOPPED FOR A FEW SECONDS TO REST. HIS SADDENED EYES WENT TO THE SKY, AND SUBCONSCIOUSLY HE NOTED THAT IT WAS GOING TO GET HOT LATER IN THE DAY. AND THEN, FOR THE FIRST TIME, HE BECAME AWARE OF THE JUNK PILE -- OLD CARS, TIN CANS AND UNIDENTIFIABLE OBJECTS OF ALL SHAPES.
HE MOVED OFF THE ROAD AND SAT DOWN UPON A LARGE ROCK. HIS EYES MOVED OVER THE WRECKED AND RUSTED AUTOMOBILES AND CAME TO REST ON ONE IN PARTICULAR THAT, HE THOUGHT, MUST BE AS OLD AS HE WAS.
AS HE STUDIED EACH DETAIL OF THE ABANDONED CAR, HE BEGAN TO COMPARE IT WITH HIS OWN LIFE. HIS MIND BROUGHT FORTH MEMORIES, BOTH HAPPY AND SAD, OF A TIME OR PLACE, WITH EACH DIFFERENT PIECE, AND HOURS WENT BY AS HE RELIVED HIS LIFE AND THE LIFE OF THE CAR.
AT LAST HE STOOD, HIS MEMORY HAVING COMPLETED THE JOURNEY FROM THE PAST TO THE PRESENT. HIS FINAL OBSERVATION WAS OF A MACHINE, A ONCE LIVING AND USEFUL MACHINE, WHOSE TIME WAS ALL GONE. THE CAR WAS WORN OUT. AND, LIKE THE CAR, HE WAS WORN OUT TOO. THE GOOD TIMES AND THE HAPPINESS WERE GONE. AND THE FUTURE HELD NOTHING BUT MEMORIES OF THE PAST, WHICH COULD NEVER BE AGAIN.
HE MOVED BACK ONTO THE ROAD AND BEGAN TO RETRACE THE STEPS HE HAD TAKEN EARLIER. HIS EYES CAUGHT A FLASH AMONG THE THOUSANDS OF BITS AND PIECES OF GRAVEL, AND HE STOOPED, AND PICKED UP AN AGATE ABOUT THE SIZE OF A THIMBLE. HE HAD WALKED THIS ROAD SO MANY TIMES PICKING UP THESE SPECIAL STONES, AND, AS HE STOOD LOOKING DEEPLY INTO IT, LETTING THE SUN CATCH IT FROM DIFFERENT ANGLES, HE BECAME AWARE OF THE FACT THAT EACH OF THE AGATES THAT HE HAD FOUND DURING HIS LIFE WERE BEAUTIFUL, AND EACH IN A NEW AND DIFFERENT WAY. ALL WERE SIMILAR, BUT NO TWO WERE EXACTLY ALIKE. HE LOOKED DOWN THE LONG ROAD AND IMAGINED THE HUNDREDS OF AGATES STILL WAITING TO BE FOUND AND ENJOYED, EACH ONE WITH ITS OWN SPECIAL QUALITY.
AND THEN HE SAW THE CITY, FAR IN THE DISTANCE, AND HE IMAGINED ALL THE PEOPLE MOVING ABOUT WITHIN IT, EACH ONE DIFFERENT IN THEIR OWN SPECIAL WAY, AND SO MANY THAT HE DID NOT KNOW - HAD NOT YET FOUND. WHAT A WONDERFUL THING DISCOVERING THOSE PEOPLE WOULD BE, LEARNING THEIR DIFFERENCES AND SHARING WITH THEM THEIR HAPPINESS AND THEIR SADNESS.
HE DROPPED THE AGATE INTO HIS POCKET AND, WITH A SPIRIT THAT HAD BEEN BORN ONLY IN THIS MOMENT, HE WALKED BACK DOWN THE ROAD. AND, AS HE WALKED, THE THOUGHT OCCURRED TO HIM THAT THE BEST DAYS OF ANY MANíS LIFE ARE THE DAYS THAT ARE LEFT.
Author ~ Glenn Rose
May 1978, On a plane between
Harrisburg, Pa and Portlan, OR